Contact Info
Brookdale Senior Living
Shelley Best
1869 Crest Road
Maryville, TN 37804
Phone: 865-984-3030
Email:
sbest1@brookdale.com
Text the word: BROOKDALESL To: 72727
Website:
www.brookdale.com
Hours of Operation
Monday to Friday 8:00 AM - 5:00 PM
About Us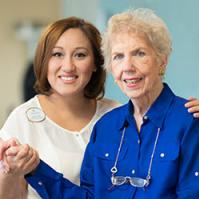 Brookdale Senior Living Inc. is the leading operator of senior living communities throughout the United States. The Company is committed to providing senior living solutions primarily within properties that are designed, purpose-built and operated to provide the highest-quality service, care and living accommodations for residents. Brookdale operates independent living, assisted living, and dementia-care communities and continuing care retirement centers, with approximately 988 communities in 46 states and the ability to serve approximately 95,000 residents as of June 30, 2018. Through its ancillary services program, the Company also offers a range of outpatient therapy, home health, and hospice services.

Imagine your life enhanced with interesting people, a place where wellness is a reality, not a dream. A life full of wisdom to understand the power of a redefined independence at all stages of life with family and friends. A place where you choose not to just age well, but live well.