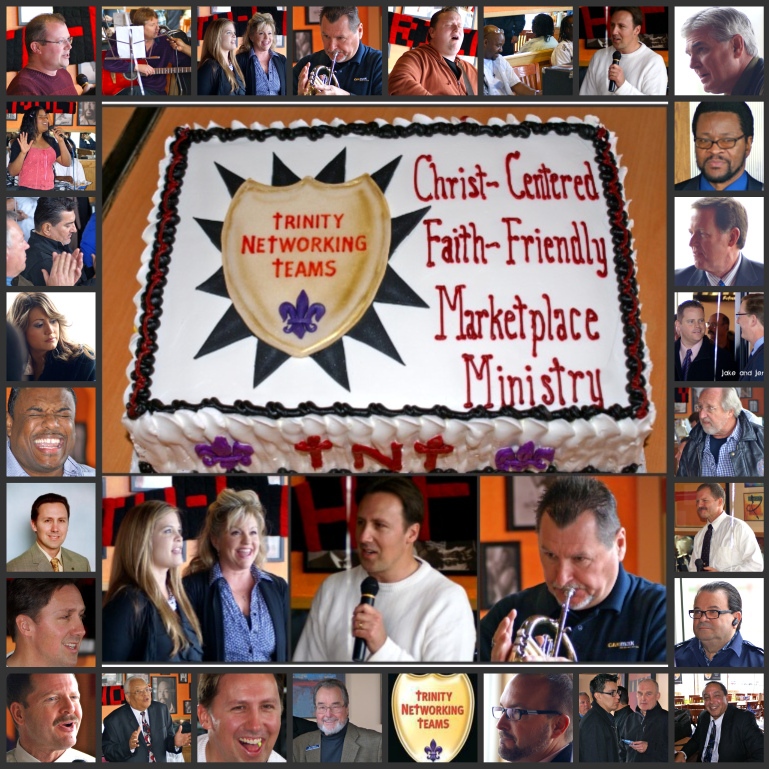 Contact Info
Trinity Networking Teams
JP Hurlbert
1320 Standiford Ave.
Ste. 4-101
Modesto, CA, 95350
Phone: 2095711990
Visit our Website
Photo Tour
This will show up if the script is missing or flash isn't installed
Our Website
Click below to visit our Website


Services
Christian Networking
Business Networking
Trinity Networking
Mastermind Group
Christian Organizations
Marketplace Ministries
Christian Businesses
Executive Networking
Christian Networking Organization
Christian Fellowship
Fundraisers We Support
The "Friends" of Trinity Networking Teams support local churches, missionaries, ministries and missions as well as 501(C)3 Organizations including Advancing Vibrant Communities, Agape Children's Ministries, Mexico Missions, Shelter Cove, Youth With A Mission and Church in the Park.
Hours of Operation
TRINITY NETWORKING TEAMS meets at noon on most Wednesdays in the greater Modesto area for our mid-week "oasis" from 11:45 to 1:15pm. Please Visit "Trinity Networking Teams" on Facebook for our current meeting location or call 209-571-1990. ~ TNT is the place to be!
About Us
TNT: AN ENCOURAGING PLACE TO GATHER, GROW AND GLORIFY GOD
Trinity Networking Teams (TNT) is a Christ-Centered, Faith-Friendly, Marketplace Ministry; We encourage Christians in business, public service and ministry. TRINITY NETWORKING TEAMS (TNT) meets each Wednesday at area businesses and venues. Check our Facebook Fan Page for locations and speaker information. The "Friends" of TNT are on a mission to "encourage one another" in the name of Christ. Newcomers are welcome, please join us and bring a friend.
TNT is the place to be to meet with faith-friendly business owners, encouraging speakers and ministry leaders. You are invited to come and network with local professionals, dedicated individuals and skilled craftsmen, hear their stories and learn from their victories and defeats.

Each TNT meeting is designed to provide optimal opportunities for local business people and others to meet and fellowship with one another. The setting is casual, relaxed and informatve.

You will have a brief opportunity to introduce your product, service or passion at our weekly luncheons. Our guests may make an anouncenment and hand out a business card, flyer or brochure.

TNT speakers, artists and performers typically include business and ministry leaders, missionaries, public servants, entreprenuers and visionaries. Each week we feature a new speaker. After visiting three meetings, you may be invited to give an extended presentation or share your testiimony with the group.

Trinity Networking Teams is a growing band of believers who encourage one another in prayer while sharing food and fellowship. In doing so, we carry the fruit of the Holy Spirit into the marketplace and beyond in order to build bridges of faith throughout our community and to demonstrate God's good and perfect will in our lives through service to others.
Our Mission: "To gather, grow and glorify God" -- Heb 10:25; Gen 26:13; Psalm 34:3
Our Vision: "Plant seeds, build bridges & bear good fruit" -- Mt 13:24; Jn 15:15; Jas 3:17
Our Motto: "Ask - Seek - Knock" -- Mt 7:7; 1st Chron 16:10; Lk 11:9
Connecting Christians in business, service and ministry.
***
We invite you to visit our sister site below:
Dream Big with www.BigDreams.US
***
Our 5th Annual TNT Anniversary celebration was held on Saturday, January 7th, 2012 in the multipurpose room of Shelter Cove Community Church in Modesto, CA and was a huge hit. We had 9 guest speakers including Kaylee Smith of Agape Children's Ministry, Shelly Walker from SC Mexico Missions and Carl Stange, board president of United Cerebral Palsy of Stanislaus County. In addition we heard stirring messages from Mylinda Mason, Brad Hawn and 25th Assembly Member Kristin Olsen. Our last three speakers were Joe Williams of Marriage 911, Steve White (local Christian radio on-air personality) and Pastor Craig Hunnel of Lifepointe Ministries in Ceres, CA.
Over 100 friends of TNT supported this gala event. Naja Froewn and TNT Founder JP Hurlbert co-hosted the event and introduced each speaker and performer. Brian Hyde opened with the national anthem followed by Country Gospel singer Mike Barnes. Catie Carrel & Kara Reeves sang a beautiful tribute duet. The talented Shuntavia Reynolds sang a Gospel solo accompanied by pianist Glen Stovall. Rick and Maile Delgado blessed us with a Christian interpretation of traditional Hawaiian hula. Vocalist and worship leader Dezman Turner, Gospel Hip Hop group God's Men at Work and soloist Sarah Hunnel rouned out the two-hour afternoon anniversary celebration.