Contact Info
Sierra Car Care
Steve Yarborough
1575 E Commercial Row
Reno, NV 89512
Phone: 775-324-2222
Fax: 775-324-2295
Photo Tour
This will show up if the script is missing or flash isn't installed
Hours of Operation
Fuel: 24 X 7
Service Bays open 7 days a week
About Us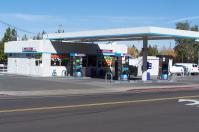 NV STATE APPROVED
SMOG SERVICE STATIONS
Village Service: 1101 Califorinia Ave and Booth St. 348-7508
Northwest Service: 1300 West 7th St. and Elgin 747-1345
Lakeside Service: 190 West Plumb Ln. and Lakeside 825-1185
Sierra Car Care Sparks: 800 Prater Way and Pyramid 358-6186

Since 1975, Sierra Car Care has been proudly providing fast, friendly and reliable services along with Quality Guaranteed Auto Repair Services and leading distributionof total Petrol Services.
Now featuring four convenient Reno locations to serve you better!
Sierra Car Care works on All Makes, All Models, Domestic & Import Cars, Sport Utility, Light Trucks, 4-Wheel Drive, RV's & Motorhomes!
We are NV State Approved for your Smog check needs, AAA Repair Approved and Five-Star Award for our Customer Service at all times. Reno/Sparks Complete Car Care Station, Certified Smog Inspection, and Automobile Repair Center
Why Choose Northern Nevada's Sierra Car Care Center?
Sierra Car Center offers the following additional services:
Pickup and Delivery Hotel Service
Road Service Calls
Towing Service
Rental Cars Available
A+ Better Business Bureau Rating
And an Industry Leading 5-Star Customer Service Guarantee!
Whatever your needs, whatever your location, Sierra Car Care Center in Nevada offers honest, fair and reliable service to all customers.
NEVADA STATE APPROVED Full-Line Service Center, Expert Repair Including: Lubrication and Oil Services
Nevada Approved Smog Inspection
Full Inventory Tire Centers
Batteries
Scheduled Maintenance Repairs
Engine Diagnoses
Fuel Injection Repair
Computer Controls Electrical Diagnoses
Cooling Systems
Brake Service
Suspension and Alignment
Air Conditioning
Tune-up and Fuel System
Complete Parts Inventory
Timing Belt Service
Clutch and Transmission
Safety Inspections
http://www.sierracarcare.com/